Where did all our cars go?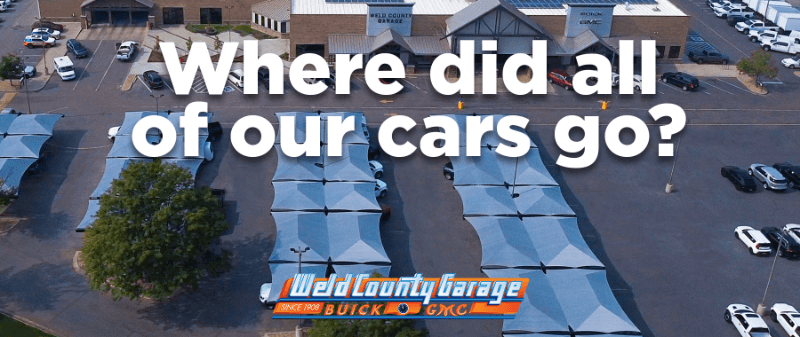 Where did all our cars go?
As covid lock downs have started to ease and you begin to venture around town again, you're probably noticing that our dealership lot, and the lot of every other dealership in town, have much fewer vehicles than normal.  This is especially true in our new car lot.  Some dealerships in Greeley have been so empty its prompted people to ask if they're going out of business.  Weld County Garage is definitely not going out of business! We are, like every other dealership, experiencing a shortage dissimilar to anything we've been through in our 113 year history.  What's happening is a combination of decisions made by car manufacturers during the Covid outbreak and issues in the global supply chain of microchips.
Covid Lockdowns in 2020
As Covid lockdowns began in March 2020, car manufacturers were unable to produce cars because they had to send their workers home. As a result, orders to suppliers that provided parts needed to make vehicles were cancelled or postponed.  These cancellations included tires, leather goods, window glass, paint, and so many other products, including microchips. By June 2020 as dealerships like us had worked hard to take our entire car selling operation online and remote, car shoppers had extra cash in their wallets from paycheck protection plans and simply from not spending it in the normal ways they would have been.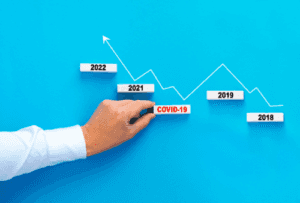 This meant car sales came roaring back and the car manufacturers had to quickly restart supply chains.  For most supplies this was simple because suppliers either had inventory ready to ship or were eager to safely get back to business to support their businesses and their employees.  However, the supply of microchips, an essential part of just about every modern product, was a different issue completely.  While car sales had slowed down during the lockdown the sale of personal electronics had surged.  As consumers found themselves at home with nothing to do, entertainment became a necessity and so much of modern home entertainment includes microchips.  Because of this shift, microchip manufacturers diverted their products from automotive to personal electronics.  As car sales ramped up, the sale of personal electronics did not slow down and thus came the problem.
A Brief history of microchip manufacturing
Twenty years ago 80% of all microchip manufacturing came from the US.  Yet over time, Asian countries began manufacturing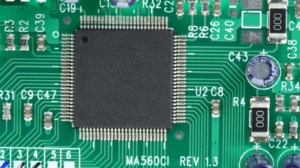 microchips as well. Thanks to strong government subsidies, these foreign manufacturers became more efficient and advanced than our own.  At the height of this manufacturing growth there were 25 global microchip manufacturers. By 2020, thanks to mergers, buyouts and companies being put out of business due to competition, the supply chain had dwindled to just 3 advanced microchip manufacturers in the world.  These companies are Samsung in South Korea, Intel in the US, and TSMC of Taiwan.  Intel is building new manufacturing outside of Phoenix, Arizona and has hopes to manufacture the most advanced chips needed for modern cars within two years. Unfortunately, the only current supplier capable of making microchips needed for car manufacturers anywhere in the world is TSMC in Taiwan.
Getting microchips shipped out again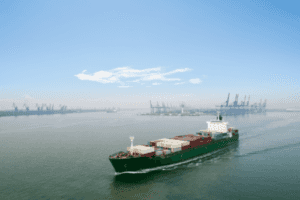 TSMC has ramped up their production to capacity. Some of this has caused them to tap into the water supply of local farms and has caused rolling blackouts in Taiwan, but they are currently on track to catch up to supply demand by the end of June.  So this whole issue will be fixed then, right?  Unfortunately, no.  Once these chips are produced there is still a very long process of packaging, shipping internationally via container ships, distributing them to car manufacturers and then those manufacturers installing them in vehicles already produced or begin producing cars with these chips, then shipping these cars throughout the nation or world to a dealership near you.  Currently car manufacturers aren't making guesses on when we will have new cars back on our lot but as you can see from this large scale issue it's not likely to be very soon.
So what does this mean for the value of your current vehicle?
Do to the lack of new vehicles, simple supply and demand dictates that the value of new and used vehicles have increased dramatically in the last several months.  Since there are fewer new vehicles available this means dealerships like us are getting far fewer trade-ins and the cost of purchasing used cars elsewhere has also seen a significant increase. There are fewer cars at rental locations, auctions, and of course, other dealerships.  All this means if you have a vehicle you can part ways with, we need it!  Used cars are more valuable to us than ever and we are currently purchasing any kind of vehicle.  Everything from a near-new '19 or '20 model to a 20 year old vehicle, they are all very valuable to us right now.  Used cars have always been a very large part of our business so you can be sure we are more aggressively searching for used vehicles than anyone in town.  We've set up car buying events in our service lanes, allowed for real offers to be made completely online at shop.weldcountygarage.com/sell_your_car and sent our buyers throughout the nation purchasing used vehicles for our inventory.
Can't find what you're looking for?
With fewer vehicles on dealership lots it can be tough to find what you're looking for right now.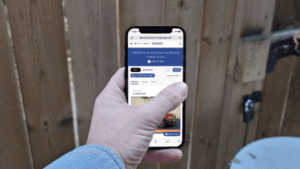 We want to encourage you to reach out to us if we don't have what you're looking for on our lot or website right now.  We still have many options for sourcing the perfect new or used vehicle for you.  We're also placing many more order for new vehicles that we ever have.  We can fill you in on what we have incoming and you can pre-purchase or reserve any of those vehicles now.
We know this strange time in the car business will pass much like other storms we have weathered in our 113 year histry, but we hope this explanation gives you some understanding of why our lot is so empty. We're working hard to make the best of a challenging situation as we continue to serve our communities automotive needs.